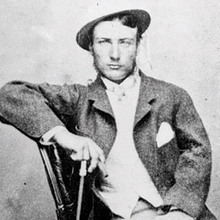 Marcus Clarke (1846-1881) was born in Kensington, London. His mother died when Clarke was four years old. His father, ostensibly wealthy, had a breakdown in 1862 and the family encouraged Clarke, aged 17, to move to Melbourne.
Clarke was first employed as a bank clerk, but he soon left to live upcountry at a property where his family had an interest. The reality of Australian agriculture made him appreciate the city life of  'cigars and chat, champagne, chicken and all that' ( Hergenban,1972).
He was far better suited to life as a journalist and author. Rather than hard news gathering, Clarke wrote from 1867, "The Peripatetic Philosopher" column for the Argus and its associated paper, the Australasian, often satirising Melbourne society. Columns ranged from witty recreations of royal visits to immersions in Melbourne's 'lower bohemia' that exposed the seedier side of the city and its poverty.
Clarke also wrote for the Herald, the [Melbourne] Daily Telegraph and the Age. He joined a literary consortium to buy the Australian Monthly Magazine, renamed The Colonial Monthly. He then began the comic weekly, Humbug, envisioned as a rival to Punch magazine. He further edited the Australian Journal, then was a trustee and librarian at the Public Library of Victoria, but debts forced him to insolvency, despite the success of his classic novel His Natural Life (1874), later republished as For the Term of His Natural Life. Clarke, married to actress Marian Dunn and the father of six children,  died in 1881. His prolific journalism would be shadowed by the novel that defined his literary career.
Representative Examples:
"Austin Friars", Australian Monthly Magazine, May 1866, Vol 11 No 9 – Memoir/reminiscences written under the pseudonym of Mark Scrivener
"Melbourne Streets at Midnight", Argus, 28 February, 1868
"A Pawnbroker's Shop on a Saturday Night", Argus, 6 March, 1868
"The Melbourne Spring Meeting", Argus, 4 November, 1867
Bibliography
Wilding, Michael (Ed) (1988)  Marcus Clarke, For the Term of His Natural Life, Short Stories, Critical Essays and Journalism, University of Queensland Press, St Lucia
Hergenban, L.T (Ed) (1972) Colonial City, Selected Journalism of Marcus Clarke, University of Queensland Press, St Lucia