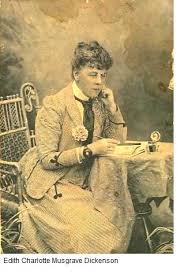 Little is known about Edith C.M Dickenson (1851 -1903)  apart from a small biography written by her great grandson, Steve Lipscombe, on the Australian Boer War Memorial website.
According to Lipscombe, Edith married Doctor Augustus Maximillian Dickenson, Medical Officer of Health at Deloraine, after immigrating to Tasmania from England in 1886. She had previously married a reverend, but it is unclear why the marriage ended, or whether her four children accompanied her to Australia.
While travelling, Edith began her association with the Adelaide Advertiser, filing travel articles and photographs, which later formed the basis for her book, What I saw in India and the East (1900).
In 1899, Edith joined nurses in South Africa at a camp where her husband was a military doctor, and turned to war reporting. Rather than describe battles as WJ Lambie, JD Melvin and A.B Paterson did , she wrote about the impact of the war on people.  The Adelaide Advertiser called Edith, 'our special correspondent in South Africa, Mrs. Edith C.M Dickenson.'
Her article, "The Refuge Camp" (1902), vividly describes the hardship and starvation of local life, chronicling the dead animals as far as the eye could see: "Horses, cows with young calves near them, mules, goats in various states of decay …Two or three times I saw dying animals, once a goat dragging itself along and staring beseechingly at a passing train with its head through the wires."
In another article she sketches mini character profiles that highlight colonial privilege: "Mr Sylvester Browne is an immense man…seated in a double rickshaw he seems to surge out from either side of it, and the unfortunate Kaffir should get double rates." (1900). In the same article, Edith describes the smell of the wharves like a, 'heated haystack' and also chronicles her visit to a local orphanage.
She was prolific in her production of articles for the Advertiser, which appear a month after the date of writing. In another article, Military Hospitals (1900)  Edith writes in first person, again highlighting conditions for soldiers and the nurses' attempts to care for the wounded, interspersed with social justice calls that highlight the poverty facing wounded soldiers upon their return that was a characteristic of her writing.
According to Lipscombe, Edith's husband died at Beluthie camp in 1902, the year the Boer War ended. Edith died the following year, but it is not clear if that was upon her return to Australia or while still in Africa.
Representative Articles