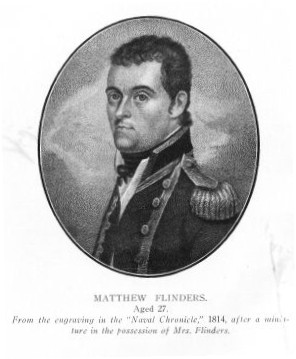 Matthew Flinders 1774 – 1814 navigated the Australian coastline and wrote the two-volume A Voyage to Terra Australis. He died before seeing it published.
In the introduction to his edition of Terra Australis, Tim Flannery (2000) describes the navigator as 'painfully honest' and 'the eternally dashing man of action' (2000: vii). Like Watkin Tench, Flinders was a gifted narrator with an eye for detail, scene and character.
Between 1795 and 1798, Flinders, with surgeon explorer George Bass, charted the Eastern Australian coastline and circumnavigated Van Dieman's Land (Tasmania) to prove its separation from the mainland. After Bass disappeared en route to South America on a separate voyage, Flinders continued exploring, ultimately circumnavigating Australia.
In 1803, en route to England to reunite with his wife, Flinders was imprisoned by the French Governor of Mauritius while stopping for repairs. During his six year internment, Flinders began working on A Voyage to Terra Australis (1814). The full manuscript includes his time in captivity in Mauritius.
Bibliography
Flinders, M, (2000) Terra Australis, Tim Flannery (introduction), Text Publishing, Melbourne