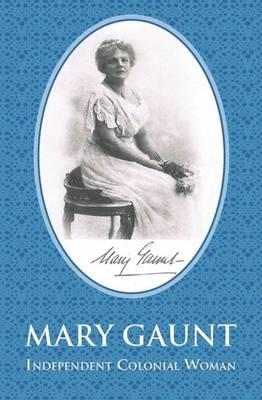 Mary Gaunt (1861-1942) began her journalism career in 1885 after being one of two women to be admitted to the University of Melbourne. Mary did not finish her degree but instead turned to writing.
Gaunt's first work of literary journalism was a first person article narrating her brother Ernest's experiences in Papua New Guinea (1885).  She submitted the article to the Age as Ernest, not disclosing that she was his sister and had never left Victoria. It was promptly published and Gaunt later employed the same tactic for a series of first person articles about naval training undertaken by another brother, Guy, and the conflict he witnessed between officers at sea. Gaunt submitted the articles to the Argus under the byline, "by The Captain of the Maintop Starboard" (1888).
Her biographer, Bronwen Hickman writes that when Gaunt contributed to the volumes Picturesque Australasia (1887 – 1889) , she wrote under the name "M. Gaunt" to claim the stories without revealing her gender (2014; 47)  and appease her mother's displeasure that she was writing journalism. For the Picturesque Australasia, Gaunt wrote again about her brother in Papua New Guinea, but also explored descriptive narrative closer to home, writing about the Victorian goldfields and the Riverina.
Gaunt resisted the conventional female norms of the time of marrying young and living a life of domesticity.  She travelled to England as a single woman in 1890  and while living in London, wrote about colonial life in Australia for the English Illustrated Magazine (1891), after initially approaching the editor with her trusty ambiguous signature and another first person story about her naval brother, Guy.
Returning home to Victoria, Gaunt wrote a fictional story for The Bulletin and worked on novels, but continued to write journalism articles that focussed on the care of the poor and those with disabilities, particularly women and children, rather than highlighting  bohemian poverty  that as Marcus Clarke did.  According to Hickman, Gaunt wrote from, "inside the institutions," (2014;70)  so was practicing immersive journalism. Gaunt toured Melbourne slums with the Melbourne District Nursing Society (1893) then immersed herself in the kindergarten, "Little Sisters of the Poor." (1893). Both were published in the Argus under her full name 'Mary Gaunt', as was her piece "A Butter Factory" (1894). 
Gaunt did marry in her early 30s but after her husband died prematurely from illness in 1901, Gaunt returned to live in England permanently. It was a base for frequent travel to Europe but she also used contacts in England to arrange travelling alone to Africa and China, primarily to write travel narratives about her journeys and for creative inspiration for novels.
She largely concentrated on fiction until her death in 1942 in France. While primarily known as a novelist, Gaunt's contribution to Australia's female literary journalism tradition remains vivid.
Representative Articles
Bibliography
Hickman Bronwen (2014) Mary Gaunt Independent Colonial Woman, Melbourne Books, Australia
Morris Edward Ellis (ed) (1895) Cassell's Picturesque Australasia, Cassell & Co, London