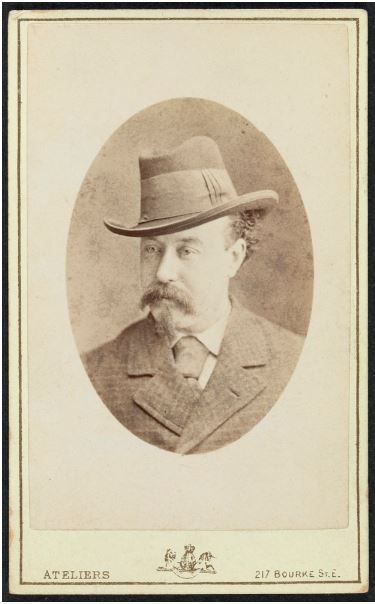 John Stanley James (1843-1896) wrote for a range of papers, but particularly for the Melbourne Argus and the Sydney Morning Herald, under the nom de plume of Julian Thomas.
He is best known for his undercover work for the Argus in 1876/7 as the Vagabond. During that year, James anonymously entered some of Melbourne's harshest institutions as an inmate or low-level employee. He wrote 5,000-word pieces in the first person exposing the difficult conditions of life in Pentridge Gaol, Melbourne Hospital, the poor houses and the asylums, until he could no longer keep his identity a secret. His articles were enormously popular with readers. They prompted several enquiries. While his undercover methods were criticised, James was never found to have his facts wrong.
James was asked to write similar articles for the Sydney Morning Herald, but these weren't as successful. He later reported extensively from the South Pacific and the Far East, including New Caledonia, the New Hebrides and the Solomon Islands, travelling as far as China. His books include the five-volume series Vagabond Papers, Occident and Orient, Cannibals and Convicts, and the play No Mercy.
When he died twenty years after his work in Melbourne as the Vagabond he was still remembered fondly. Crowds thronged to watch the funeral cortege and a monument was raised on his grave by public subscription.
"A Day in the Immigrants' Home",  Argus, 29 April, 1876
"The Outcasts of Melbourne", 

Part 1,

Gippsland Times, 23 May 1876.

 

Part 2, Gippsland Times, 27 May 1876 (Syndicated to the Argus (Melbourne), Saturday, 27 May, 1876 and The Mail (South Australia), Saturday, 6 November, 1876
"Hospital Funerals", Argus, 23 December ,1876. (Published as "Pauper Funerals" in his 5-volume book The Vagabond Papers: Sketches of Melbourne Life in Light and Shade,  (1877), G. Robertson, Melbourne

"A Month in Pentridge" – an 8-part series that ran in the Argus on the following dates:
Obituaries:
"Death of Well-known Journalist", Obituary, Argus, 5 September, 1896.
"Obituary", Zeehan and Dundas Herald (TAS), 7 September, 1896.
A.V.G, "In Memoriam : Julian Thomas, 'The Vagabond'" The Bulletin, Vol. 17 No. 865,12 September ,1896 periodical issue pg. 9 (poem)