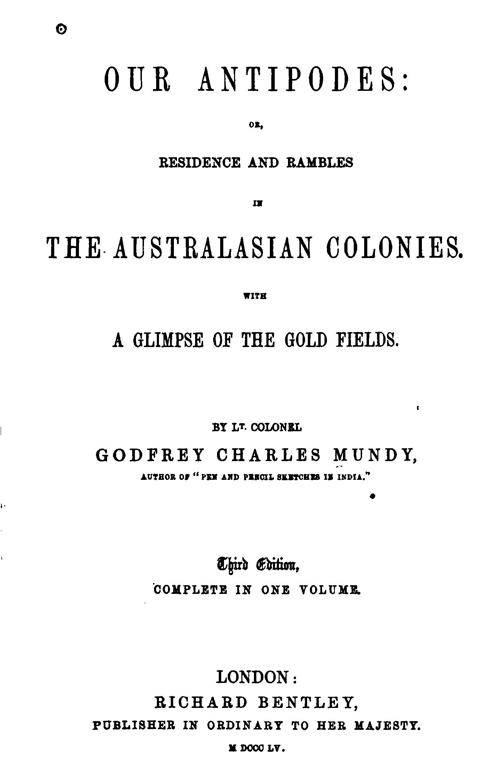 Godfrey Mundy (1804-1860) was a British army colonel who served in India and Canada before arriving in Australia in 1846 as deputy adjutant general of the military forces. In 1832 he published an account of his time in India, Pen and Pencil Sketches, Being the Journal of a Tour in India. In 1852 he wrote about Australia. Our Antipodes: or, Residence and Rambles in the Australasian Colonies: with a Glimpse of the Gold Fields was published in three volumes of 400 pages each. Mundy's detailed account, written from his diaries once he returned to Britain, was controversial when copies arrived back in Sydney. The Sydney Morning Herald said that Mundy had not 'acted fairly towards those who had received him on friendly terms during his sojourn among us'. In a review that included large extracts and ran to more than 8000 words, Mundy was accused of being in breach of more than good taste by inflicting unnecessary pain on innocent friends and relatives. The reviewer suggested that Mundy would not have been so well received had his hosts known he 'regularly "logged" every night all the information that he had observed'.
The books were better received in Europe, being translated into German (1856) and Swedish (1857).
The Australian Dictionary of Biography described Antipodes as an invaluable source of information for the Australian social historian. "To read the book is to like the author".
The section about Mundy's visit to Van Diemen's Land in the summer of 1850-51 was published as a separate book, titled A Record of Observations in Van Diemen's Land (1986). Copies are held in the National Library of Australia as well as state libraries of NSW, WA, Vic and SA and the libraries of Macquarie University and Deakin University.