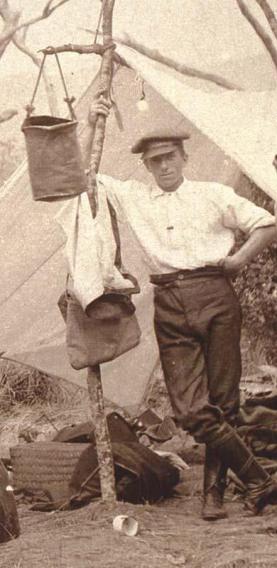 Andrew Barton (Banjo) Paterson  (1864-1941), best known as a bush poet, was also a journalist and war correspondent.  He began writing journalism in the 1890s, contributing prose pieces about his travels through the Northern Territory and other places to the Sydney Mail, the Pastoralists' Review, the Australian Town and Country Journal, the Lone Hand and the Bulletin.
In 1899, he sailed to South Africa to cover the Boer War for the Sydney Morning Herald and the Melbourne Age as their war correspondent. While there, he was attached to General French's column from where he reported on the capture of Pretoria, the relief of Kimberley and the surrender of Bloemfontein. Because of the quality of his reporting, he was appointed a correspondent on the war for Reuters.
Paterson returned to Sydney in 1900 and sailed to China the following year as a roving correspondent for the Sydney Morning Herald. From 1903 till 1908, he was editor of the Sydney Evening News. When World War 1 broke out, he sailed to England hoping to cover the fighting from Flanders, but this was not to be. He returned to Australia in 1915 and was commissioned in the 2nd Remount Unit, Australian Imperial Force and served in the Middle East.
After the war ended, Paterson continued his journalism, contributing articles to both the Sydney Mail and Smith's Weekly before becoming editor of the Sydney Sportsman in 1922.  In 1934, his memoir of famous people he had met on his travels over the previous four decades was published as Happy Dispatches. In1939, the year he was appointed C.B.E, he wrote reminiscences for the Sydney Morning Herald. Two years later, he died after a short illness and was survived by his wife and two children.
 Collections:
Collected Prose by A B "Banjo" Paterson, Project Gutenberg. e-book.
Off Down the Track: Racing and Other Yarns, Campbell, R and Harvie, P (ed's), Angus & Robertson, North Ryde, 1986.
From the Front: A. B. (Banjo) Paterson's Dispatches from the Boer War, Droogleever, R.W.F (ed), Pan Macmillan: Sydney, 2002.
A number of Paterson's non-fiction stories, particularly concerning his favourite sport, horse racing, can be found in Haynes, J (ed), The Best Australian Yarns and Other True Stories, Allen & Unwin, Sydney, 2013.
Representative examples:
Town and Country:
Boer War Reporting:
"Life on Board the SS Kent," Sydney Morning Herald, Friday, 29 December, 1899, p7.
"At the Front, Bloemfontein, March 25,"  Sydney Morning Herald, Saturday 12 May, 1900, p.10.
"In a Tight Place, Pretoria, June 5," Sydney Morning Herald, Wednesday 8 August, 1900, p4.