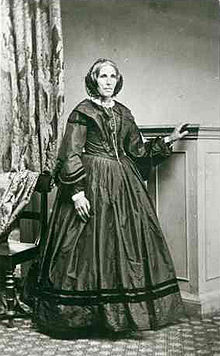 Christina Smith, nee Menzies, (1809-1893) was the first white woman to settle in the district of Rivoli  Bay, South Australia, in 1845. She established a home for Aborigines in Mt Gambier in 1865. She was a teacher and missionary known for her support of Aborigines, in particular the Booandik (Buandig or Buandik) people, whose numbers were diminishing due to  European aggression, disease and land depredation. In 1864, under her married name Mrs Smith, she published as a pamphlet Memoir of Wergon, an Australian Aborigine of the Reedy Creek tribe, South Australia, born in 1836; died in 1850. Only one copy is known to exist, held by the National Library of Australia.
In 1865, she profiled a Booandik woman, known as Mingboaram or Caroline, in a 31-page pamphlet, titled Caroline and her family or The Conversion of Black Bobby. It tells how the woman, who is aware she is dying, asked Mrs Smith to care for her two young children. (Copies are held at the National Library and State Library of Victoria. The profile, titled "Poor Caroline", is included in Nancy Keesing's, The White Chysanthemum: changing images of Australian motherhood.)
At the request of the Booandik people, Smith recorded in detail their customs, legends and social relationships, while her son Duncan compiled a Booandik vocabulary.
In 1880, under the pen name Mrs James Smith, she wrote The Booandik Tribe of South Australian Aborigines: A Sketch of Their Habits, Customs, Legends and Language. It is an account of their rites of passage, songs and language, with brief biographies of fourteen christian converts. The Australian Dictionary of Biography describes it as 'an influential ethnography, blending scholarly observation with personal narrative, it was a unique window onto an Aboriginal-settler frontier.' Smith wrote in the foreword that she lamented the loss of this once large and powerful tribe as a result of  cruel practices of the early settlers of the colony and considered it her duty to record Booandik characteristics, customs, habits, language and legends for future historians, antiquarians and philologists. Her work is quoted in the 1904 book The Native Tribes of South-East Australia, by well known anthropologist A. W. Howitt.
The Lady Nelson Visitor and Discovery Centre in Mt Gambier, South Australia, features a hologram of Christina Smith, who 'steps' from a photograph and "reads" from her own work about the Booandik people
Her death on April 28, 1893, was reported in The Advertiser.